Controversial penalty thwarts potential victory at Daytona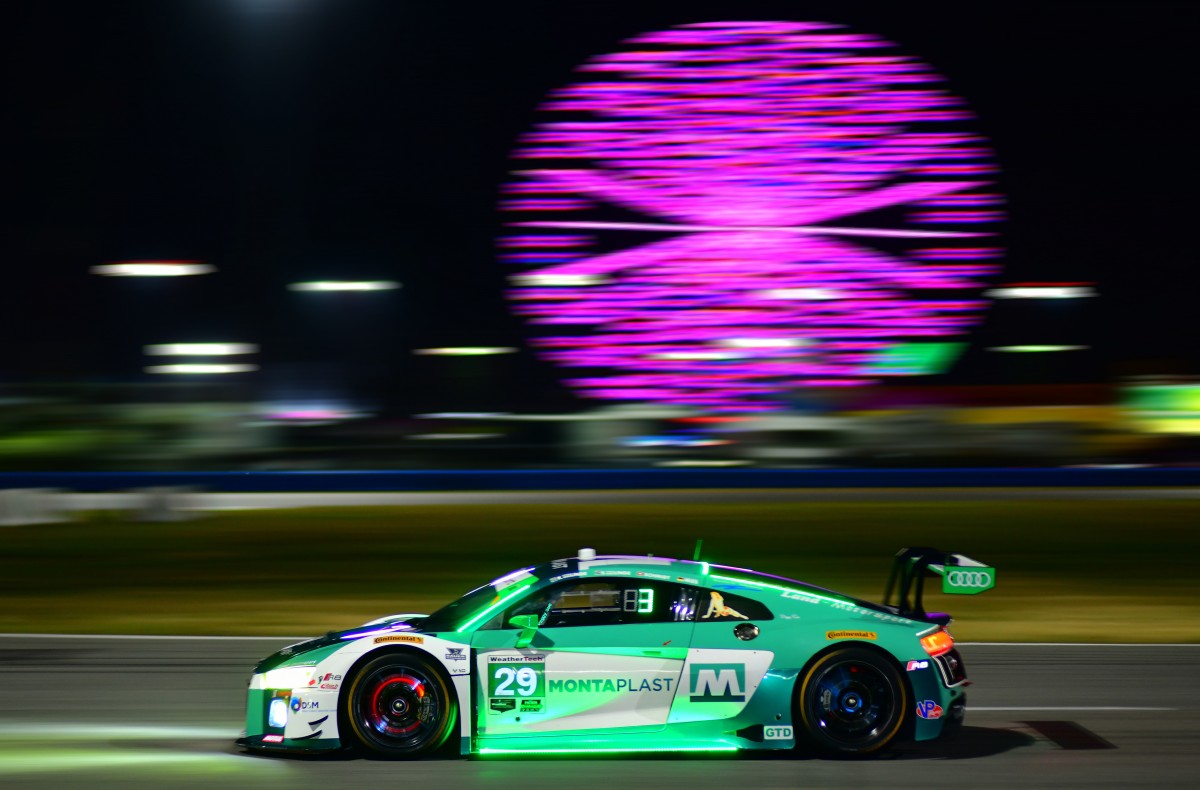 The 2018 season began for Jeffrey Schmidt with the famous 24 Hours of Daytona (24th – 27th January). At the Daytona International Speedway in the US state of Florida, the Swiss driver teamed up with Montaplast by Land-Motorsport to finish seventh in the GTD class of the IMSA series endurance race. A bittersweet result, because victory had been within reach.
The Audi R8 LMS GT3 quartet of Schmidt, Christopher Mies and the van der Linde brothers, Kelvin and Sheldon, lived up to their billing as favourites by taking the lead in the GTD class after one hour, having started from seventh on the grid. Schmidt and his co-drivers had narrowly missed out on victory in 2017 and they sensed that this time their luck was in.
However, a five-minute penalty for an alleged breach of the Balance of Performance (BoP) regulations dashed their hopes. The most frustrating aspect of all was when the post-race technical scrutiny confirmed that the car had in fact been compliant all along and that the penalty was therefore obviously unwarranted. Investigations by IMSA continue.
Congratulation on mounting such a spirited charge through the field. How would you sum up your Daytona race weekend?
We led the race early on, and we knew that we were in contention for the win. As a team, we were incredibly strong, and everyone, including drivers and engineers and mechanics, knew exactly what they had to do. During my stint, I was involved in a tough fight for the lead with a Lexus. That really wasn't at all easy, because we are still at something of a disadvantage in terms of top speed with the Audi on the straights. I managed to fend off all attacks and hand the car over to Christopher in first place. But after that, everything went against us.
You're talking about the penalty. Can you shed some light on what exactly happened?
We were hit with a five-minute penalty during the night for an alleged breach of the BoP regulations. Obviously, that set us back considerably. Nevertheless, no-one on the team thought of giving up. We fought on and didn't allow another unplanned pit stop for a repair that was caused through no fault of our own to get us down. When I was told after the race that our car had been declared compliant after all by the scrutineers, I just couldn't believe it. It had ruined our race and – as it would seem at the moment – for no valid reason at all! The officials could have investigated the car after the race and then imposed any penalty. Although seventh place in this race is a top result, it is only a moderate consolation for us, knowing what we had truly been capable of.
Despite all the difficulties and penalties, can you take anything positive from this into the season?
Definitely! It was an incredibly cool race. Compared to the previous year, I knew the car, the track and the team much better, which made everything easier. Quite apart from that, it was a star-studded event. It was a lot of fun to compete against the likes of Fernando Alonso, Juan Pablo Montoya and the whole IndyCar contingent. I won't be forgetting this in a hurry. In any case, all of these experiences taken together put me in a positive frame of mind for the season ahead, particularly the knowledge that we as a team had a genuine chance of winning the 24 Hours of Daytona.
Zurück